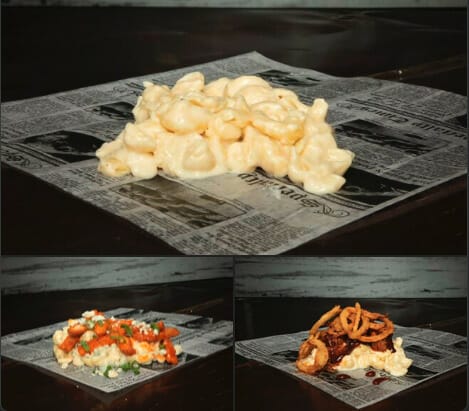 Do you love All-American food? How about all things automotive? Why not combine the two? Station 24 in Flat Rock, Michigan, has done exactly that! The building itself contains the classic charm of a completely remodeled classic Texaco gas station that's been turned into an exciting family-friendly modern restaurant offering one of the coolest experiences you can find in the surrounding Downriver communities. Whether it's for takeout or dining in… Our friendly staff will make you an exciting, mouthwatering meal to fill up your hunger tank. Our menu has something for everyone so we're featuring some of our favorites from the menu, just to make you hungry.
Today we are featuring our amazing Mac & Cheese, we have three dishes for you to try:
Classic Mac & Cheese
Sometimes, you just need a classic. Our Mac & Cheese is exactly that. If creamy, satisfying, and delicious are what you're looking for, then look no further, because you've found it. 
Buffalo Bacon Mac
If you want to step it up a notch, The Buffalo Bacon Mac is the excitement your mouth has been craving. Our classic Mac & Cheese, served with perfectly breaded and fried chicken breast, topped with spicy buffalo sauce. Crispy bacon and scallions are a satisfying flavor combination. And since there's no such thing as too much cheese, the rich blue cheese crumbles seal the deal on this creative creation. 
Mac Daddy Mac & Cheese
Who's your daddy? If you like a little bit of everything, it might be the Mac Daddy! Classic, creamy Mac & Cheese, topped with slow roasted pulled pork that falls apart in your mouth. Smothered in tangy BBQ sauce, the Mac Daddy wouldn't be complete without a generous heap of our crispy, golden, battered and fried onion rings. This Mac & Cheese is so good, we put a ring on it! 
Ready to order the our Mac and Cheese? Stop in or visit our online ordering to access our full menu to build your order just the way you like it! For the fastest service we ask that you please place your order on our easy-to-use online ordering system or by calling Station 24 Flat Rock directly at +1(734) 789-7302.
Order the Straight Up Burger Now!
You can check out Our Full Menu or browse by section
Do you love the our Mac & Cheese dishes? We'd love to hear from you by having you Leave us a comment below and tell us why it's your favorite thing to order at Station 24 Flat Rock. Do you really want to show Station 24 some love? Take a picture of yourself with your order and tag us @Station24FlatRock on your favorite social media platform! We strive to offer an exceptional dining experience for both take-out and dining-in at our convenient downtown Flat Rock location at the corner of Telegraph and Huron River Drive. Whether you are a long-time resident or a visitor swinging through Flat Rock; we love serving up delicious food using only the best quality ingredients.  Feel free to share our posts or our menu with your friends and family and consider enjoying some of the very best American Food in the Downriver area. Founded in 2021 and launching with a bang, this exciting business is located kiddy-corner across the street from Atwater Street Tacos. Station 24 is hosting a monthly car show event bringing all sorts of awesome rumbling and roaring cars out and creating quite the attraction for both classic car lovers and modern muscle enthusiasts…. but Hey, Even if you aren't a car fanatic, we proudly look forward to serving you up some exceptional food!